MIRACUM
MIRACUM – Medical Informatics in Research and Care in University Medicine – is one of four consortia funded by the German Federal Ministry of Education and Research as part of the Medical Informatics Initiative (MII). From 2018 to 2022, the focus was on establishing data integration centers at German university hospitals. Starting in 2023, these data integration centers will be networked beyond university hospitals to regional hospitals and other medical care facilities. In this expansion and extension phase of the MII, the consortia are also growing together. Six junior research groups have now been established out of MIRACUM. In addition, the MII also funds so-called Digital Progress Hubs Health, four of the six hubs of which have emerged from the MIRACUM consortium. In the new funding phase, networking across sector boundaries is being researched in eight clinical and three methodological use cases. MIRACUM is participating in all of these use cases. The consortium also focuses on the education and training of young researchers, and we are driving this forward through the master's degree program and cross-consortium colloquia, job shadowing and summer schools.
---
---
News



---
#JustPublished
Vass A, Reinecke I, Boeker M, Prokosch HU, Gulden C.
Availability of Structured Data Elements in Electronic Health Records for Supporting Patient Recruitment in Clinical Trials.
Stud Health Technol Inform 2022; 290:130-134. DOI: 10.3233/SHTI220046. PMID: 35672985.
Scheible R, Caliskan D, Fischer P, Thomczyk F, Zabka S, Schneider H, Boeker M, Schulz S, Prokosch HU, Gulden C.
AHD2FHIR: A Tool for Mapping of Natural Language Annotations to Fast Healthcare Interoperability Resources – A Technical Case Report.
Stud Health Technol Inform 2022; 290:32-36. DOI: 10.3233/SHTI220026. PMID: 35672965.
---
Find out about the current work progress, focal topics and projects of the MIRACUM consortium in the current MIRACUM Journal #5! [in German]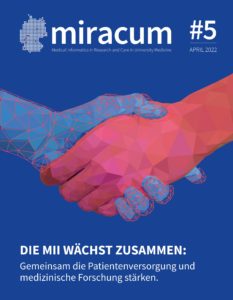 What is a data integration centre and what added value can they provide for medical research? Find out this and more in the MIRACUM brochure about the DIZ! [in German]
---