At the end of April, DMEA – Connecting Digital Health, the largest and most diverse IT industry meeting for the European healthcare sector, took place in Berlin: Also MIRACUM was in this first, "regular" year again with some representatives at the start!
Politics on the spot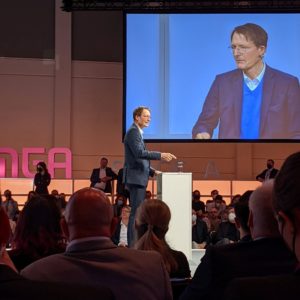 That the industry need not worry about the necessary attention at the moment was already shown by the first keynote speaker, Federal Minister of Health Prof. Karl Lauterbach, who emphasized that digitization in medicine is "not another form of documenting and archiving medicine", but is actually "better medicine". To this end, he announced his intention to launch a strategy process after the (political) summer break. It remains to be seen how this announcement will be implemented.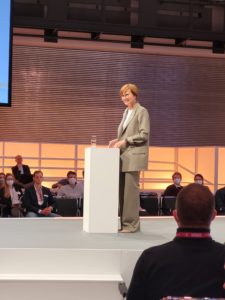 In addition to Prof. Karl Lauterbach, Bettina Stark-Watzinger, Federal Minister of Education and Research, was also a convincing speaker at the event. She emphasized the role of the Medical Informatics Initiative and thus the mandate of politics to support data-driven, medical research. She highlighted the high willingness (77 percent, according to a recent study by Techniker Krankenkasse,) of citizens to make their data available in coded form for research purposes, commenting impressively; "This is a leap of faith!" and thus tantamount to a mandate to policymakers and researchers to make the most of it.
MII-Session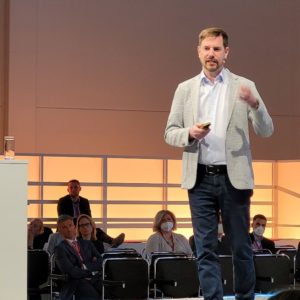 Another highlight in particular was also the Medical Informatics Initiative (MII) session on the topic "Medical Informatics Initiative: Heart of data-based health research in Germany". In this session, the results achieved by the initiative in the current funding phase (2018-2022) were presented. The Dresden MIRACUM site coordinator Prof. Dr. Martin Sedlmayr was invited to speak on this topic, among others, and reported primarily on the functioning of the data integration centers as a hub in clinical research.
Master BIDS and promotion of young researchers
The area of continuing education and training was also represented by the Mannheim colleagues at the booth regarding the MIRACUM Online Master "Biomedical Informatics and Data Science" and the certificate courses led by Prof. Dr. Schmücker.
With the start of DMEA this year, our MIRACUM Journal #5 was also published and was accepted with extremely high interest by the fair visitors.
In general, a wide variety of nationally and internationally renowned experts related to digital healthcare were represented. In addition, industry and business as well as many other stakeholders from politics and society also showed up on site with more than 500 exhibitors.
Last but not least, we were pleased that young MIRACUM members, such as the representatives of Acalta GmbH, were also present at the fair and were able to hold up the flag for Up and Coming young entrepreneurs.
The next DMEA will take place from April 25 to 27, 2023 in Berlin!